Design your own napkins. Be creative!

Design your individual and personal napkins with your own creativity. Become the designer of your own napkins and bring your photos, stroke, names, graphics, logos or illustrations on your festival board. Combine in addition to the napkin the different table products of Paper+Design and put your unique moments straight in scene. Therefore you get on your nicest day in the life the personal table decoration. The new and innovative pressure technology of the Paper+Design GmbH makes it possible.

With us you have the possibility to create your own 3-ply napkins (33 x 33 cm (opened), 16.5 x 16.5 cm (folded)) with 3.7 cm of embossed edge. You are absolutely free in the design and can provide the napkin without margins with your texts, pictures and logos. Our delivery time amounts, on this occasion, to only 6-10 working days.

ATTENTION: You can design below one to four sides of the napkin. Then in the preview you can choose from different layouts. It is already enough if you form one side. Use very high-resolution pictures (jpg, gif, png). A minimum quantity are 60 napkins which are packed in three packets per 20 pieces. The quoted price of 37.99 euros refers to it. You can choose in the preview also several packets with discounts. Luminous colours can look a little more matt on the ready napkin.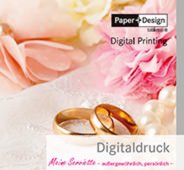 Signs of the printed napkins:
No radical right-wing or pornographic motives may be printed.
The printing of the napkins is matt of course. A napkin is no photo paper.
The printing can lead according to colour thickness to small folds on the napkins.
The pressure can occur completely without margins.
Luminous colours can look a little more matt under circumstances on the printed product.
You are responsible as a creator of the napkins for the contents, the picture rights, licences etc.
The diesigned napkins are excluded from the exchange. (see Terms and Conditions)
The tolerance with the reaping of the napkins amounts approx. 1 - 1.5 mm.
Discounts for retail trade are not possible with printed articles.
On orders of very much large amounts prize progressive rates are possible. Contact us.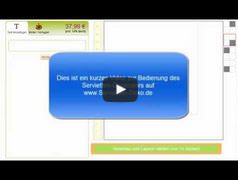 Instructions and tips:
To change the background colour of the napkin: You must choose the square from the pictures and make it big. Now you can choose the background colour on the left.
You can change the colour of all pictures and presentations.
You can choose beside the available colours also all the other colours, while you simply put down the colour code below on the field by the colour choice. Here you find colour codes: >>> Farbcodes <<< oder >>> Farbcodes2 <<<
Use very high-resolution pictures (jpg, gif, png), if you upload own pictures.
If the hook "Transparenz beim Hochladen erzeugen" is activated, then white places on your photo become transparent.
You can choose the exact number in packets in the preview.
You find ideas in the prospectus. Simply click and look at the PDF! >>> Click <<<
Here you find some ideas for the design of your printed napkins: